Peace Lily Plant
from 1-800-Flowers.com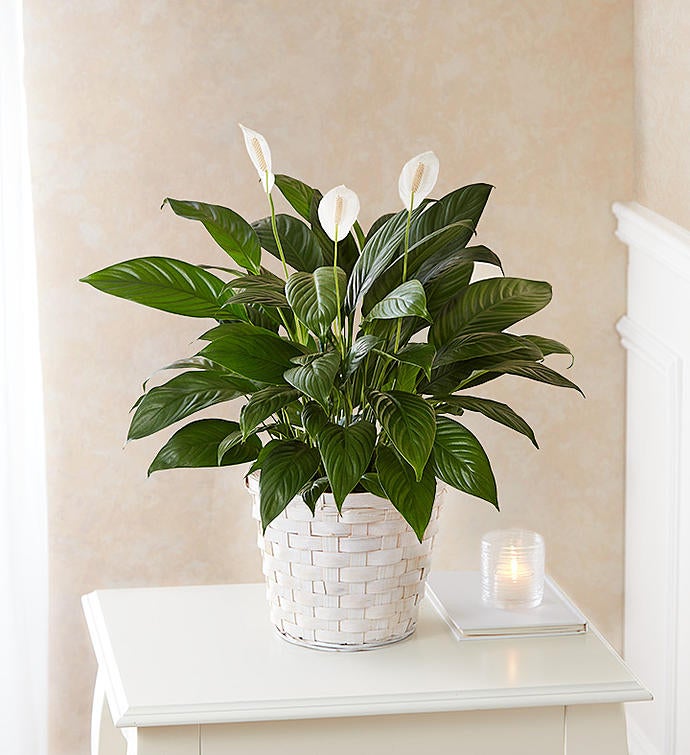 Delivery Method

---
Vase
A vase is included in the price or is not necessary.
---
Price
Use code
NICE25
**Get an Extra 25% Off Site-wide
---
"Our lush lily lives up to its name, with exuberant green leaves and graceful white blooms that bring a serene beauty to any space. Tucked inside a versatile wicker basket, it's a great way to send get well wishes, say thanks, or welcome someone to their new home."

– 1-800-Flowers.com
---
Details
Spathiphyllum "Peace Lily" plant gathered with Spanish moss
Small measures 6"D; medium measures 8"D; large measures 10"D
---
Size
Small
---
Pet Safety

* All florists have substitution policies that allow them to make substitutions based on flower availability. This summary is based on the flowers listed in the description and may not represent the delivered arrangement if substitutions are made.
---
Stems
Peace Lily
Scientific Name
Spathiphyllum
Common Names
Mauna Loa Peace Lily, Peace Lily, Spathe Flower, White Sails
Pet Safety

Spanish Moss
Scientific Name
Tillandsia usneoides
Common Names
Air-plant, Grandfather's Whiskers, Graybeard, Long Moss, Old Man's Beard, Spanish Moss, Wool Crepe
Pet Safety

---